The leader of the agency that operates the Amtrak Downeaster service from Maine to Boston provided a letter to customers on Tuesday, acknowledging the train is not providing the desired experience for its passengers.
However, the letter also admitted the over-crowding situation does not appear to have a quick fix.
The communication from Patricia Quinn, the executive director of the Northern New England Passenger Rail Authority, came one day after an NBC10 Boston report, which documented the frustrations of Maggie Kent, a pregnant commuter who sometimes had to stand for the duration of the one-hour ride.
"The demand has simply outpaced the supply of seats," Quinn's letter said. "Additional seating capacity is not feasible on a permanent basis. Therefore, the current conditions being experienced are likely to continue."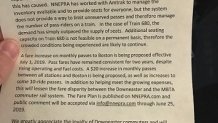 As a result, the NNEPRA said it is proposing a $20 fare increase that would take effect on July 1. According to Quinn, the change would bring the $320 Downeaster monthly pass more in line with what customers pay for monthly service on the MBTA commuter rail system.
Kent and other Downeaster passengers had expressed a hope the train service would add capacity in response to the obvious demand.
Local
In-depth news coverage of the Greater Boston Area.
In response to follow-up questions from NBC10 Boston, Quinn said the cost of adding another coach to the train would not make economic sense and would also create additional challenges that could negatively impact other areas of the operation.
She said the fare increase is partially meant to discourage even more people from purchasing monthly passes.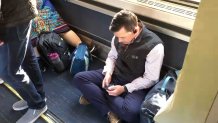 "The Downeaster simply does not have the ability to transport an unlimited number of passengers," Quinn said. "We know they cannot be accommodated comfortably."
NBC10 Boston also asked about the timing of her letter to passengers.
"Given the recent increase in complaints about overcrowding, I felt it was important to be upfront with the riders and let them know the seating capacity will not likely change," she responded.
Ryan Kath can be reached at ryan.kath@nbcuni.com. You can also follow him on Twitter or connect with him Facebook.