It's a true American love story most of us have not read in our history books: how an enslaved couple escapes Macon, Georgia, and finds freedom in Boston.
That's the story of "Master Slave Husband Wife," by Cambridge native Ilyon Woo. The historical narrative follows Ellen Craft, whose biological father and first enslaver is white, and William Craft. In December 1848, she disguises herself as a wealthy white gentleman traveling with her husband as her "slave." The two create a meticulous plan to account for Ellen's inability to read and write.
Woo says, "How is Ellen possibly going to sign for herself as well as for William at these key stops? So she puts her arm in a sling, she has glasses, green glasses to indicate that her eyes are strained for reading."
The Crafts set out on a thousand-mile journey by trains, stagecoach, hotel and steamboat. But at every turn, there are so many perilous moments.
"So many things could have gone wrong and they start going wrong from the get-go. There are three people who could recognize them, who could see through the disguise, and they don't," Woo said.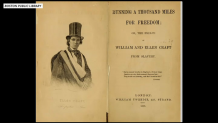 She first read the Crafts' narrative, "Running a Thousand Miles for Freedom," in graduate school at Columbia. The 111 pages stuck with her. But as a Korean-American, she initially hesitated to write the book. But, she said, "I felt a sense of responsibility to that history and as an American. I really want the Crafts to be seen as American heroes, as the heroes they were."
Through extensive research, Woo revealed so many brutal realities of slavery in America, including how the value of a person changed from birth to death.
"You see people being bought and sold, mortgaged right alongside objects and household animal," Woo said.
The Crafts would make it to the free state of Pennsylvania in four days, their arrival announced in the abolitionist newspaper, The Liberator.
Woo reads portions of the article: "It says, 'Here is a wonderful case, read it. William and Ellen Craft, man and wife, lived with different masters in the state of Georgia. Ellen is so near white that she can pass without suspicion for a white woman. Her husband is much darker. They arrived at Philadelphia in four days. Their history, especially of their escape, is replete with interest. They will be at the meeting of the Massachusetts Anti-Slavery Society in Boston in the latter part of this month.'"
Ellen and William would cross into Boston by January 1849. Once Ellen finally revealed herself, the Crafts didn't hide. Instead, they went on a speaking tour as part of the abolitionist movement.
"Within months of her escaping, she's telling her own story. I mean, after all the trauma they've gone through and a lifetime of bondage to this harrowing escape, they are on the stage. They're speaking in front of giant crowds. It was so brave to continually do this when they're continually under threat," Woo said.
But when the Fugitive Slave Act passed in September 1850, hunters with warrants came to return the Crafts down south. And even though those men were met with an army of abolitionists on Beacon Hill, by Thanksgiving, the Crafts would journey to safer shores in England.
Overseas, the Crafts would fulfill two dreams: starting a family and literacy. And within 20 years of their escape, they would pen their own story.
"The Crafts were larger than life. They are so brave and so spontaneous, and everything feels so new that even I was at the edge of my seat," Woo said.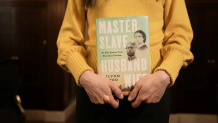 More on the impacts of slavery today