Thousands of people took to the streets in downtown Boston on Sunday, in the largest showing of support for Ukraine that the city has seen since Russian invaded Ukraine last week.
"We're determined. We're angry. This is our land, not their land, and it's time for them to go," said Olena Staveley-O'Carroll, a Massachusetts resident originally from Ukraine.
The rally started by the Boston Public Garden and the group peacefully made its way to the nearby Boston Common, stretching for more than a couple of miles at one point.
The crowd of demonstrators also marched down Newbury Street chanting "stop the war" as President Vladimir Putin ordered Russian nuclear forces to be put on high alert Sunday in a dramatic escalation of the conflict.
"Our family is over there and our heart[s] [are] aching because so many people are dying, innocent people," said a Ukrainian demonstrator in the Boston protest. "We're trying to show our support [for] Ukraine. Be strong, we see you, we are all praying for you."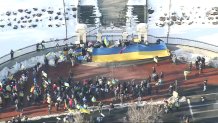 There were also chants of "Support for Ukraine" that could be heard from people from Ukraine, people with strong familial ties to Ukraine, and people who just want to see the violent conflict come to an end.
"My hometown is Berdyansk, which was bombed," Oksana Gsimman said.
"I feel a tremendous sense of relief that we're not indifferent to this," said Jennifer Ivascyn Dowdle.
"Call your senators. Call Senator Warren. Call Senator Markey," Dmitri Sokolovskiy said as he urged action. "If you're not in Massachusetts, call your senators wherever you are. Get them to understand that this is important."
Sunday's march in downtown Boston is the latest and largest gathering in Massachusetts where protesters have been standing in solidarity with the people of Ukraine.
Other strong showings of support in recent days include college students from Harvard, MIT and other institutions who rallied in neighboring Cambridge on Saturday, and a candlelit vigil that was held in Concord Sunday afternoon.
About 150 people attended the Concord vigil that was held in Monument Square and consisted of Ukrainian-Americans, those with Ukrainian loved ones, and anti-war protestors.
"I just hope that people send support, whether it's prayers, [financial support], or just solidarity, because it's important for the whole world to see what is happening. It's a travesty," said Hanna Melnyczuk, who has family living in Ukraine.
"I think Putin dreads democracy," said Ihor Kowal, who also has family currently in Ukraine while Russia attempts to capture major cities in the country.
The Associated Press contributed to this report
NBC10 Boston/The Associated Press