We are in the home stretch for this winter season, and temperatures this week will flip back to above normal through Saturday. Astronomical spring begins on March 20. Before we figure out the spring season forecast, we will look at some temperature and precipitation averages as well as how this season's snowfall turned out.
Temperatures
Average highs for mid-March across New England range from 46 degrees in Providence, Rhode Island to 38 degrees in Burlington, Vermont. By the end of this month, Boston's average high temp is 50 degrees. The average high temperature is 60 degrees by the end of April and 71 degrees by the end of May.
We will look at Boston for the average monthly temperatures (highs and lows) during meteorological spring which is March, April, and May. March has an average temperature of 38.3 degrees, April is 48.1 degrees, and May is 57.9 degrees. This is a good base to figure out our spring outlook.
Precipitation and Snow Recap
We have been above normal for snowfall across northern New England, while southern New England has been near or just below normal. Boston's snowfall for the entire winter season is 27.4 inches which is 10.3 inches below normal. Caribou, Maine has had a record snowfall of 153.2 inches, almost 63 inches above normal! Concord, New Hampshire had 51.10 inches which is around average.
Total precipitation for the springtime in Boston is typically 4.32 inches for March, 3.74 inches for April, and 3.49 inches for May. March overall is Boston's highest month of the year for average precipitation, and as we all know, it can be in the form of snow or rain.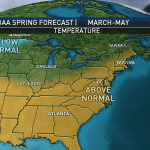 Spring Outlook
Local
In-depth news coverage of the Greater Boston Area.
In our 10-day forecast, we will be slightly above normal for temperatures. We consult with National Oceanic and Atmospheric Administration (NOAA) for our 8-14 day outlook, which will bring us to just near to slightly below average for temperatures, and drier than normal.
NOAA has the northeast with a slight chance for above average temperatures March, April, and May across the northeast. We have an equal chance for near normal precipitation.
Flood Threat
Spring flood potential is above normal across New England. The threat from ice jams is close to normal across the interior with rivers running around normal levels. Our soil is saturated and we have deep snowpack across northern New England so the freshwater flood risk is higher, especially if we have heavy rainfall in the forecast.
Even though our outlook seems to be promising, we will, of course, have a few extremely cold days and extreme warm days as spring is one of the more volatile seasons. Also missing in the 10-day forecast are snow storms. There is one more shot as colder air returns late next week if we get a storm to track in during the right time, but that doesn't look likely. Happy spring!
[NATL] Extreme Weather Photos: Record Heat Threatens Europe