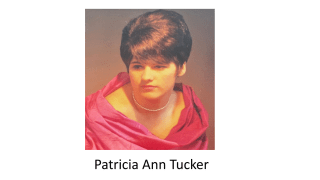 Decades after the body of a young woman was found in western Massachusetts — known for years only as 'Granby Girl' — authorities announced Monday that they have learned her name by using a combination of advances in DNA technology and "old-fashioned police work."
The woman, whose body was found on Nov. 15, 1978, was identified by the Northwestern District Attorney's Office Monday as Patricia Ann Tucker.
Tucker's body was found buried under leaves on a logging road off Amherst Road in Granby. Following the discovery of her body, the Office of the Chief Medical Examiner ruled her death a homicide, saying that her cause of death was a bullet wound to her temple. Authorities were unable to identify her, though, as she lacked identification on her, and it was estimated that she had been dead for several months, the DA's office said.
"Our hope is that today's press conference will generate some additional leads that will help to move this investigation further and ultimately identify a murderer," First Assistant District Attorney Steve Gagne said.
Her remains have been buried in a Granby cemetery, and her gravesite has a headstone that reads "Unknown" and "In God's Care."
Around two years ago, Massachusetts authorities sent a sample to a private forensic lab in Houston called Othram, which was able to identify a woman in Maryland who was likely related to the unidentified murder victim. That woman was able to lead authorities to who would turn out to be Tucker's adult son, prosecutors said, adding that a comparison of the pair's DNA lead to a 100% match.
Tucker's son was five years old when she disappeared.
Authorities said that Gerald Coleman — who Tucker was married to when she died — has been identified as a person of interest in the murder. Coleman died in a Massachusetts state prison in 1996, and prosecutors said he never reported his wife as missing.
Tucker and Coleman got married in 1977 in Middletown, Connecticut, and they lived along the shore of Lake Pocotopaug in East Hampton, Connecticut, at the time of Tucker's death.
Tucker's son said that around the time his mother disappeared, Coleman dropped him off a home in Massachusetts, and he did not see his mother again, nor did he have further contact with Coleman, according to prosecutors. The boy was later reunited with his birth father, after a woman that had been looking after him reached out to authorities.
Prosecutors said that Coleman had been previously arrested in Hartford, Conn. in 1968 when he was charged with attempted kidnapping, aggravated assault and carrying a firearm. In 1995, Coleman was convicted in Hampden Superior Court of rape, indecent assault and battery and assault with a dangerous weapon. He was sentenced to state prison — where he died a year later.
"At this point, the investigation into Patricia's murder remains as active and ongoing as it's been in decades," Gagne said. "At this stage, we do not yet formally have probably cause to charge anyone with Patricia's murder, but our hope in holding this press conference here today is to bring renewed attention to this case that will hopefully trigger some additional leads in this investigation."
Tucker was born on July 28, 1950, meaning that she turned 28 years old the year she was killed. Other, married names that Tucker went by during her life included Patricia Heckman, Patricia Dale, and, at the time of her disappearance and death, Patricia Coleman.
Anyone with information about this case has been urged to contact the Granby Police Department by phone at 413-467-9222, email at jwhite@granbypd.org, or by sending a message through the agency's website.