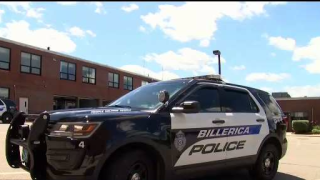 Three floors of a high school in Billerica, Massachusetts, were flooded Saturday morning in what is being investigated as an act of vandalism, police and school officials said.
A joint message from Superintendent Timothy Piwowar and Police Chief Roy Frost was sent to the Billerica community on Saturday, in which the incident at Billerica Memorial High School was described as "a malicious act of vandalism."
Officials say school personnel discovered what happened and immediately took steps to address the damage, in addition to contacting Billerica police.
The alleged vandalism resulted in water damage to areas on the first, second and third floors of the academic wing of the building, officials added. The 325,000 square foot building opened in 2019 at a cost of $176 million, and is considered the "gem of the community," the police chief told the Boston Globe on Saturday.
The superintendent noted that while there is damage in the building, they do not expect this to have any impact on school Monday morning.
A cheerleading competition scheduled at the school for Sunday will also move forward as planned.
The investigation by the Billerica Police Department remains ongoing, and the police chief told the Globe that they "will prosecute whoever was responsible to the best of their abilities."