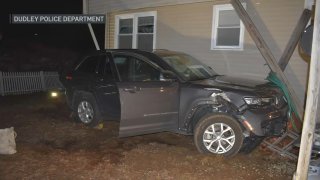 A 35-year-old Massachusetts man is facing several charges for allegedly driving drunk Friday night when he crashed into the backyard of a Dudley home.
Dudley police said officers were called to Pierpont Road just before 6 p.m. Friday for a motor vehicle accident and found an SUV in the back yard of the residence on arrival.
An investigation revealed that Daniels was impaired when his vehicle crossed into the oncoming lane of traffic, went off the road, hit a utility pole guard wire, crashed through a fence and then struck the house.
The driver, identified as Eric Daniels, of Charlton, was taken into custody and charged with OUI-Liquor, negligent operation of a motor vehicle, child endangerment while OUI, and marked lanes violation.
Photos released by the police department showed the SUV at a rest next to the house, with several wood beams resting on it, and a white fence lying damaged in the grass.
Daniels is scheduled to be arraigned Monday at Dudley District Court. It was not immediately known if he had obtained an attorney who could speak to the charges on his behalf.