Police in Brockton, Massachusetts have arrested two men in connection with a reported shooting early Friday morning.
Police responded to a ShotSpotter activation on Davids Street around 1:30a.m. on Friday and found three cars that sustained damages from the gunfire.
According to police, the casings found on the street are two different sizes, indicating they came from two different weapons.
Neighbors told NBC 10 Boston a man whose mother lives on Davids Street had fired several shots at a car carrying two women and a man who live just across the street.
"I thought it was only a firecracker or something, they say, it's a gunshot, I go to that window up here, I just open the shade and I hear five more," said neighbor Joao Debarros.
Debarros says three of his tenants – two females and a male – were driving back home to Davids Street when the son of a woman who lives in an apartment across the street started shooting at them.
"This girl running out of the car, tried to run then he kept shooting, he hit another two cars in the street down there," said Debarros.
Local
In-depth news coverage of the Greater Boston Area.
All three were uninjured, but that's when Debarros says the suspect ran into his mother's apartment – leading to a standoff that lasted roughly three hours.
A crisis negotiator was eventually able to get the suspect to surrender and he was taken into custody without incident.
Police identified the suspect as 27-year-old Kenny Rodrigues, of Brockton.
Police searched the Rodrigues' home and found a handgun, a long riffle, ammunition, and cocaine. He is facing multiple charges including assault and battery with a dangerous weapon, and discharging of a firearm within 500 feet of a building.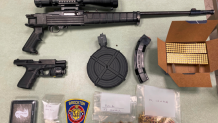 Authorities also arrested 32-year-old Luis Rodrigues. He is facing multiple drug and weapon-related charges.
Authorities are continuing to investigate the shooting and ask that anyone with information on the incident contact Brockton Police.