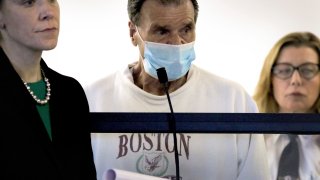 A man behind bars on a murder charge in a 52-year-old Massachusetts killing tried to get a witness to lie in court to derail the case against him, prosecutors said Wednesday, announcing new charges against the man.
Arthur Massei, a 77-year-old who was arrested a year ago in the 1971 stabbing death of Natalie Scheublin in Bedford, now faces charges of soliciting false testimony, attempted extortion and threatening death, the Middlesex District Attorney's Office said.
From inside the Middlesex Sheriff's Office in Billerica, Massei wrote to a woman to recruit someone to testify that Massei had been framed, using a story he made up, prosecutors said. The accused killer allegedly offered $1,000 for the testimony.
Massei's letters included escalating threats, including that he would order someone to hurt her and that he would get to the woman "like a bullet," according to the announcement.
Investigators also found that the man told people outside the jails to collect on illegal loansharking debts, prosecutors said.
"With these indictments today, we allege that Arthur Massei took premeditated, purposeful steps to try to obstruct justice by seeking to procure false testimony in his upcoming murder trial. We take allegations of intimidation and threats very seriously and these additional charges reflect that," District Attorney Marian Ryan said in a statement.
Massai was arraigned in court to face the new charges on Tuesday and is due back May 3, according to prosecutors. He'd previously pleaded not guilty to the murder charge.
Scheublin, a 54-year-old mother of two, was found dead in the basement of her home by her husband, Raymond Scheublin, who at the time was president of the Lexington Trust Bank. She was face down on the floor with her ankles tied, a makeshift gag around her neck and multiple stab wounds, prosecutors have said.
Nothing of significant value was taken from the home except her car, a 1969 Chevrolet Impala, which was later found a short distance away at the Bedford VA Hospital. The car appeared to have been wiped, but investigators were able to recover a fingerprint from the window. Massei was later connected to the case in 1999 by new fingerprinting technology that wasn't available at the time of the initial investigation.
When interviewed by police, Ryan said at the time of his arrest, Massei denied ever having been to Bedford or having any knowledge of the killing. In a later interaction, he claimed he was solicited by an organized crime contact who asked him if he would be interested in a contract to kill a bank president's wife and make it look like a break-in. He claimed he turned down the job.
Ryan also stressed that there was no evidence to support that Raymond Scheublin had anything to do with his wife's death or that such a contract ever existed.
In court last year, prosecutors said Massei has a long record of criminal convictions and prison sentences, has assaulted corrections officers, has twice been convicted of escape and, as recently as 2016, was convicted of violating court orders involving harassment and abuse.
More on the Scheublin murder arrest