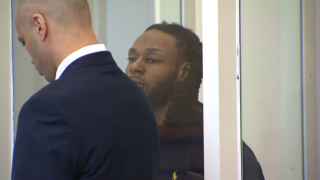 The 34-year-old man charged with murder in the shooting death of 13-year-old Tyler Lawrence in Mattapan is being held without bail after a court arraignment on Friday.
Csean Skerritt faced a judge Friday morning for his murder charge in Dorchester's division of Boston Municipal Court.
Suffolk District Attorney Kevin Hayden announced at a press conference earlier this month that Skerritt was arrested on a separate charge of fentanyl distribution and that his office had also secured an arrest warrant charging Skerritt with first-degree murder and gun-related charges in connection with Tyler's death.
During Skerritt's arraignment Friday, state prosecutors laid out his criminal record and history of prior convictions, while saying that there was video footage of Skerritt running away from where the shooting happened, with what looked like a gun in his hand.
Prosecutors said that evidence has shown no connection between Skerritt and the 13-year-old boy he allegedly shot and killed on Jan. 29.
Lawrence was on a walk while visiting his grandparents in Mattapan that day when he was shot multiple times, including shots in the head, prosecutors said. He was pronounced dead on scene, by the corner of Babson and Freemont Streets.
Local
In-depth news coverage of the Greater Boston Area.
"Tyler Lawrence's family has shown extraordinary courage and strength during this time of loss," Hayden said during a prior news conference. "I met with his mother last week and attended his memorial service yesterday. I can personally attest to the enormous love and admiration for Tyler from everyone he knew and touched."
According to court documents, Skerritt agreed to sell 50 grams of fentanyl in exchange for $1,500 on Feb. 1, four days after Tyler's shooting. That charge alone calls for a sentence of at least 5 years and up to 40 years in prison.
Hayden didn't say what led investigators to charge Skerritt with Tyler's killing. He did say Skerritt was known to police and had a prior criminal record.
Remy Lawrence, the mother of the 13-year-old Norwood boy killed, has spoken publicly about the shooting, making an emotional plea for change.
If you have been impacted by homicide, survivor outreach services are available. Contact the Louis D. Brown Peace Institute at 617-825-1917 Ext. 119 or visit the website LDBPeaceInstitute.org for more information.
"Everybody in this city should be outraged! And if you're not, what's wrong?" she said. "I just left a funeral home for my 13-year-old son!"
Tyler's family has said the teen was going on a walk after leaving his grandparents' house when he was fatally shot about a block away.
"He was walking," his mother said. "He was walking because he wanted to go for a walk."