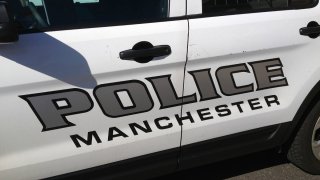 A pedestrian hit by a car in Manchester, New Hampshire earlier this week has died, and the man investigators believe was behind the wheel has been found dead, according to the city's police department.
The hit-and-run crash happened on Sunday morning at around 6:25 a.m. near the corner of Union Street and Merrimack Street.
Police said in a news release Friday that the pedestrian who was hit, identified as 35-year-old Michael Vigneault of Manchester, has died.
During an investigation, police said they located the vehicle and driver they believed to be involved, and found the driver dead. The driver was identified as 59-year-old Shawn Croteau of Newbury, New Hampshire.
The pedestrian was found laying in the road when police arrived on scene to the crash Sunday morning, a news release said, and he was taken to a local hospital to be treated for what appeared to be a serious head injury.
Police determined during an investigation that the pedestrian was hit by a car that was trying to cross Union Street, which left the scene after the crash, a news release said. Officers had asked for the public's help finding the car involved.
An investigation remained ongoing Friday. Details surrounding the death of the driver have not been released. Anyone with information is being urged to contact Manchester police at 603-668-8711.