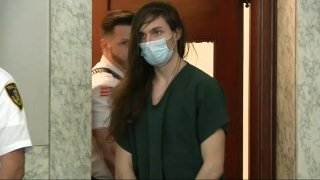 A 22-year-old North Shore man who was arrested over the weekend in connection with a deadly shooting in Mansfield, Massachusetts, was arraigned in court Monday on murder and other charges.
William O'Brien, of Manchester-by-the-Sea, appeared in Attleboro District Court Monday in connection to the shooting death of Samuel Waters. A not guilty plea was entered on O'Brien's behalf and he was ordered held without bail.
According to the Bristol County District Attorney's Office, police responded to a home on West Church Street near Rumford Avenue around 11:10 a.m. Saturday after someone called 911 to report a shooting. Once on scene, first responders found Waters had been shot to death.
In court Monday, prosecutors alleged that police arrived on scene to find O'Brien in the street with body armor. They claim he fled at the sight of officers but was found a short time later.
"He indicated to police that he apologized for killing Sam and made other statements to the effect that he had just killed someone," Assistant District Attorney Patrick Driscoll told the judge.
According to Driscoll, an autopsy conducted on Waters revealed the 23-year-old died from multiple gunshot wounds to the head. His manner of death was ruled a homicide.
Local
In-depth news coverage of the Greater Boston Area.
Prosecutors said in court that witnesses who were present inside the home indicated that O'Brien had a weapon and had shot and killed Waters.
When police searched the home, they found a large amount of marijuana, a large amount of money and numerous firearms, Driscoll said.
"It's a strong case for the commonwealth," he added.
O'Brien was originally detained Saturday during the initial investigation and it was later announced he was being charged with carrying an illegal firearm and carrying a loaded illegal firearm. On Monday, the district attorney's office O'Brien was also being charged with murder.
O'Brien's attorney said in court Monday that his client wanted to go to a medical unit and that he needed a preliminary evaluation.
An investigation into the murder remained ongoing Monday by Mass. State Police detectives assigned to the DA's office, homicide prosecutors and the Mansfield Police Department.