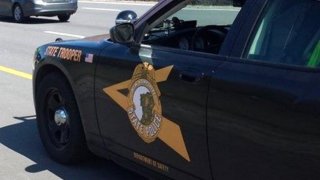 A 21-year-old man was killed and a teen seriously injured in a crash on Sunday morning in western New Hampshire.
State police said they were called to Valley Road in Sullivan around 6:14 a.m. Sunday for a report of a motor vehicle rollover.
When they arrived, they found that a 2012 Ford Focus that was headed south had veered off the road, sideswiping a guardrail and colliding with a stone wall, which caused the car to roll over.
The driver of the car, 21-year-old Taylor Hokanson, of Keene, was pronounced dead at the scene.
A 16-year-old who was in the car was thrown from the vehicle during the crash. The teen suffered serious injuries and was taken to Cheshire Medical Center in Keene and later transported by medical helicopter to Dartmouth-Hitchcock Medical Center in Lebanon. They are expected to survive, state police said.
The crash remains under investigation by state police.
No further details were immediately available.