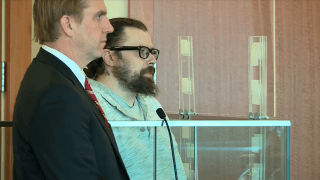 A man has pleaded guilty to second-degree murder in the death of his 14-year-old son, who had autism and was found dead of starvation, abuse and neglect at their home in Fall River, Massachusetts, in 2020, prosecutors said.
John Almond was sentenced to life in prison for the death of his son, David, Bristol County District Attorney Thomas Quinn said. Almond will be eligible for parole after 20 years.
Almond's girlfriend was also arrested in the incident.
David and one of his brothers, who also has autism, were found at the home on Green Street in what authorities described as horrid conditions on Oct. 21, 2020. The home was filthy and crowded, and the brothers were "significantly and alarmingly emaciated, 80 pounds or so," a prosecutor said in court soon afterward.
The brother and another young child found at the home were placed into protective custody.
Officials later determined that David Almond had fentanyl in his system. The Massachusetts Office of the Child Advocate found that his death was the result of failures by Fall River schools, the state Department of Children and Families and the courts.
"Always smiling, David's presence was known and felt instantaneously when he entered a room and he was described as the mayor of his former school," child advocate Maria Mossaides said.
Fall River Heritage State Park was dedicated in memory of David Almond last year, NBC affiliate WJAR reported.