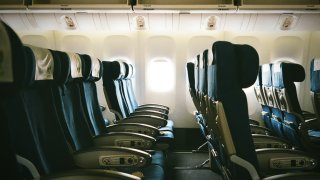 A man has pleaded guilty to groping two women, including one caring for her baby, on a redeye flight from Los Angeles to Boston last year, federal prosecutors said Friday.
Jairaj Singh Dhillon, a 43-year-old from Modesto, California, pleaded guilty on Monday to two counts of assault, according to the U.S. Attorney's Office for the District of Massachusetts. He was initially charged with abusive sexual contact.
Dhillon touched a woman sitting next to him in the thigh and groin while she was caring for her baby in the window seat on a flight from Los Angeles International Airport on May 31, 2022, prosecutors said. She called out, "This man just groped me," asking for help.
Dhillon then grabbed the groin and buttocks of a woman who'd been sitting across the aisle when she was standing up, according to prosecutors.
The flight crew moved Dhillon elsewhere in the plane until it landed at Boston Logan International Airport. He was escorted off and taken into custody, prosecutors said.
The man is due to be sentenced June 14. Each charge carries a sentence of up to six months in prison and a year of supervised release, as well as a fine of up to $5,000.
Resources for victims of sexual assault are available through the National Sexual Violence Resources Center and the National Sexual Assault Telephone Hotline at 800-656-4673, and Massachusetts provides this list of statewide and resources for sexual assault survivors.