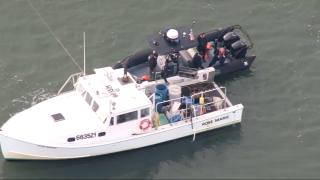 A missing lobster fisherman who was found unresponsive in the waters of Plymouth Harbor on Sunday afternoon has died, authorities said.
The U.S. Coast Guard said they received a report around 1:20 p.m. of an unmanned lobster boat out in Plymouth Harbor. They began searching the area by helicopter.
During the search, the Plymouth harbormaster reportedly found the lobster fisherman unresponsive in the water. He was wearing yellow fishing bibs but was not wearing a life jacket or other flotation device, the Coast Guard said.
The harbormaster got the man out of the water and to a dock. He was taken to Beth Israel Deaconess Hospital in Plymouth, where he was later pronounced dead.
The man has been identified as 65-year-old Michael Furlong. There were no signs of foul play.
No further information was immediately available.