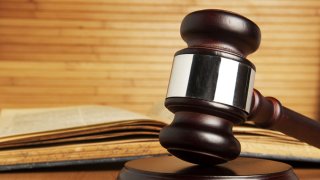 A man has been sentenced to up to 15 years in prison after being arrested for carrying an illegal gun in a trampoline park in New Bedford, Massachusetts.
32-year-old Chatra Say pled guilty on Tuesday in Fall River Superior Court, according to the Bristol County District Attorney's Office.
He was charged with carrying an illegal firearm, unlawful possession of ammunition and unlawful possession of a large capacity feeding device, authorities say.
New Bedford Police say they responded to a report of a man wearing a grey hooded sweatshirt, black ski mask, and blue jeans who had a gun in his pocket at Funz Trampoline Park in New Bedford.
Authorities say that after police approached the man the fit the description he tossed a bag into a nearby garbage can where police recovered a 9mm pistol, loaded with 12 rounds of ammunition in a 13 round magazine.
Say had a prior conviction of armed assault with intent to murder the DA says.
"Despite being on probation for a prior shooting, the defendant was walking around in a park for children with a loaded gun. He has a history of convictions for violent offenses and clearly continues to be a significant danger to the community. I'm pleased this case was resolved very quickly and that the defendant will be off the street for up to fifteen years," District Attorney Quinn said.