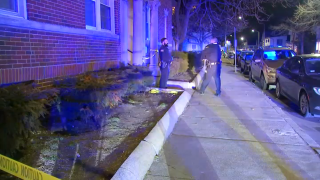 A man was seriously hurt during a shooting Tuesday night in Lynn, Massachusetts, according to the city's police department.
Lynn police responded to Lewis Street at around 9:44 p.m. Tuesday for a report of a shooting, the agency said. Officers found a 46-year-old man at the scene, who had been shot multiple times, according to authorities.
The man was taken to a hospital in Boston so he could be treated for his injuries, which police considered to be life-threatening. Police said Thursday that the victim, whose name hasn't been released, is expected to survive.
Officers arrested a 48-year-old suspect in the case, whose name wasn't initially released. Police identified him on Thursday as Max Nicolas.
According to police, Nicolas was working as a security guard in the apartment building where the incident occurred. He allegedly approached a group of people in the building and attempted to disperse them. An altercation allegedly happened between Nicolas and the victim, which then led to the shooting.
An investigation is ongoing.