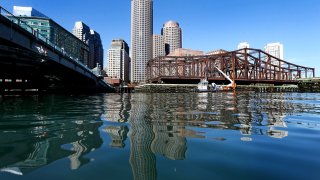 A man is undergoing a mental health evaluation after allegedly picking up his wife from her wheelchair and trying to throw her into Boston's Fort Point Channel Wednesday.
As he was being booked, Jonathan Pinney told Boston police officers he believed his wife to be an "imposter" he was trying to dump into the channel, the Suffolk County District Attorney's Office said Friday, announcing the 38-year-old's arrest on charges of assault and battery on a family member and on a disabled person.
The woman was taken to the hospital for treatment — she was shaking and trying to catch her breath when officers first arrived at the scene near the intersection of Summer and Melcher Streets Wednesday just before 3 p.m., prosecutors said.
"Considering the air and water temperatures Wednesday, along with the victim's disability, we would likely be looking at a far more tragic scenario had this man been successful in his stated intent," District Attorney Kevin Hayden said in a statement.
Police called to the scene were told by a witness that Pinney picked the woman out of her wheelchair and tried throwing her over the railing and into the water. The woman, shaking and trying to catch her breath, confirmed the account to the officers, prosecutors said.
Officers stopped Pinney a few blocks down Summer Street, across the channel, after matching his description to what they were told by the woman and witness, according to prosecutors. He allegedly gave officers the explanation while he was being booked, after his arrest.
At a court appearance Thursday, a judge ordered Pinney be evaluated at Bridgewater State Hospital for 20 days.