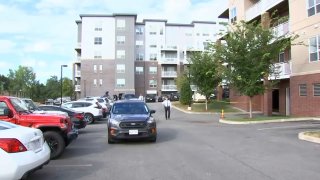 One of the men wanted on murder charges in the August shooting death of a man in Quincy, Massachusetts, has been arrested after a monthlong search, prosecutors said Monday.
Dante Clarke was taken into custody at a hotel in Wareham and was due in Norfolk Superior Court later Monday, according to the Norfolk District Attorney's Office.
Clarke is one of seven men, several at large, indicted on murder charges by a grand jury in December over the fatal shooting of Jordan Wiggins in the parking lot outside his apartment early in the morning of Aug. 18.
It wasn't immediately clear if Clarke had an attorney who could speak to his arrest.
The 23-year-old from Brockton was arrested in September, before he was identified as a suspect in the killing, during the investigation. He'd been accused of assault and battery on a police officer investigating the killing, prosecutors said, but he didn't appear at a court hearing.
He was wanted for failing to appear in court, then indicted on the murder charge two months later, while he was still at large.
More on the Quincy homicide investigation