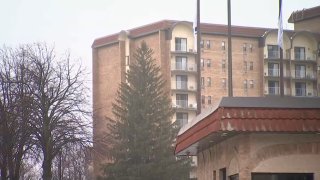 A Boston man accused of killing a 79-year-old man late last year in Malden, Massachusetts, has been arrested in Georgia.
The Middlesex County District Attorney's Office says 33-year-old Dion Smith was taken into custody Thursday morning in Atlanta.
Police had been searching for Smith following the stabbing death of Ronald Gilbert, whose body was found in his Kennedy Drive apartment on Feb. 22. His death was initially deemed suspicious, while authorities said Smith was wanted on a theft charge over property that was missing.
Authorities later confirmed Smith was wanted for murder, accused of stabbing Gilbert over 30 times in late December. They said the body had been decomposing, and that police were called to the apartment in February after a smell was noticed.
Smith is also accused of stealing Gilbert's vehicle.
Prosecutors in Middlesex County said Smith's return to Massachusetts has not yet been scheduled.