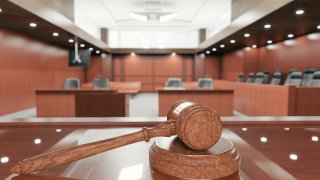 A Massachusetts man who served seven years in prison for forcing women into prostitution in the mid-2000s was indicted last week on a series of similar charges.
Trevor Jones, 45, of Everett, was indicted by an Essex County grand jury on two counts of human trafficking, two counts of deriving support from prostitution, rape, assault and battery on a family or household member and assault and battery causing serious bodily injury, according to the Essex District Attorney's Office.
Prosecutors said Jones preyed upon women who were addicted to drugs "by giving them housing, food and drugs in exchange for them engaging in commercial sex." They said the victims "lived in constant fear of not making their nightly quota, and were often subjected to physical and verbal abuse." The dates of the alleged incidents were not released.
According to a 2016 Salem News story, Jones served seven years in prison in the mid-2000s for forcing women into prostitution. A spokesman for the district attorney's office confirmed that Jones "has faced similar charges before," pleading guilty to "some charges" in 2007.
He was also arrested on similar charges in 2016 after a woman called 911 from the EconoLodge in Danvers to report that she had been forced to have sex with multiple men over the course of a week. But the district attorney's office said that case did not proceed to trial.
The Essex County District Attorney's Office said their investigation is ongoing, and any other victims of Jones are encouraged to contact them at 978-744-6610, Ext. 5004.