NBC10 Boston has exclusively obtained video showing a poodle-mix being snatched right off the side-walk by a massive pit bull. The pit's owner is seen frantically kicking his own pet in the head, horrified as it tears into the other dog.
The ferocious attack lasted about 17 seconds, before the pit eventually let go. Sparky, a poodle-mix, ran off and was found hours later lying in its own blood, barely clinging to life.
But Robert Logan's dog survived.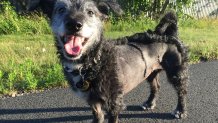 "There's no reason he should be alive," Logan said.
The vicious mauling happened this past June, right in front of the Auburn Court apartments in Cambridge. Logan says he was walking Sparky at night when the pitbull's owner lost control of his dog.
Since then, Logan has filed a police report and asked animal control to get this pit off the streets, but he says the agency has failed to do that.
Local
In-depth news coverage of the Greater Boston Area.
"There's no transparency on what dogs they are working with," Logan said.
Animal control would not tell NBC10 Boston who owns the dog or where the dog is right now.
"That's part of the investigation I can't share with you," said director Marck McCabe.
With mounting medical bills for Sparky, Logan is also learning Cambridge has zero laws in place to help recoup these costs.
"All in we're just shy of seven thousand dollars," Logan said.
After getting nowhere for months, Logan is now working with City Councilor Quinton Zondervan to introduce a new program, giving dog owners an affordable option to buy liability insurance. and possibly making it a universal requirement when licensing their pets.
"Think about a car accident, cars bump into each other, we exchange insurance information. and take care of the problem," Zondervan said.
However, Kara Holmquist with the Massachusetts Society for the Prevention of Cruelty to Animals says this could lead to some unintended consequences.
"We unfortunately could get owners who don't license and sort of go underground if it becomes a requirement," Holmquist said.
To better understand the issue, NBC10 Boston asked the city how frequently these attacks on other dogs or people occur. After weeks of waiting, NBC10 Boston received an email saying Cambridge keeps track but is not required by law to release a list of all the incidents.
NBC10 Boston asked other cities like Boston and Brockton for this same information and received it within days.
"I don't think this is a huge problem in the city right now," Cambridge Mayor Marc McGovern said.
McGovern referred NBC10 Boston back to the city solicitor's office and declined to answer other questions about why this information is not being made public.
Escalating the tension, Logan says a brick was thrown through his car window.
"It said something along the lines of 'if she dies, you die,'" Logan said.
He has no idea who's behind this but believes it's retaliation for speaking to authorities, and a reference to the female pit-bull, potentially being put down by animal control when the investigation is over.
"There were threats on my life," Logan said.
At this point, Logan says dog rules and protections for owners in Cambridge are all bark without any bite. But after this ordeal, he's hoping city leaders will add more teeth to the laws.
For now, Logan has started a website about his ordeal and also started an online petition.