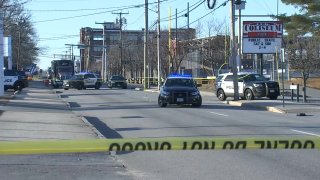 An 18-year-old was shot by a police officer in Manchester, New Hampshire, late Sunday after driving recklessly through the city and speeding away from officers, officials said.
The teenager, Waleed Al Thuwayni, is expected to survive the shooting, according to the New Hampshire Attorney General's Office, which shared details about what led up to the shooting, as did Manchester police.
An irate Al Thuwayni was at the Manchester Police Department Sunday evening, prosecutors said, then was spotted later, at about 11:30 p.m., doing burnouts and driving recklessly downtown in a Nissan convertible. When officers tried to stop the car, it drove off dangerously fast, and police stopped chasing after it.
The Nissan was later located in a parking lot on Maple Street, with Al Thuwayni, sitting in the driver's seat, and the teenager was shot during an interaction with the officers, prosecutors said. One officer, whose name isn't being released during the investigation, shot Al Thuwayni about 11:56 p.m.
He was taken to Elliott Hospital to be treated for gunshot wounds, according to the attorney general's office, and Manchester police said he was in stable condition.
Manchester police said the officer opened fire after Al Thuwayni pulled out what appeared to be a black pistol and pointed it at the man — it turned out to be a BB gun designed to look like a real handgun. Al Thuwayni was arrested on charges of reckless conduct, criminal threatening and disobeying an officer; it wasn't immediately clear if he had a lawyer who could speak to the charges.
No officers were injured, Manchester police said, adding that there was not a threat to the public.
The officers who first responded to the scene were wearing body cameras, which investigators are looking into, prosecutors said.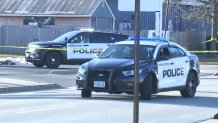 Maple Street was set to be closed from Valley Street to Auburn Street "for an extended period of time," police had said.
It is standard for the New Hampshire Attorney General's Office and state police to investigate shootings involving police officers in the state.