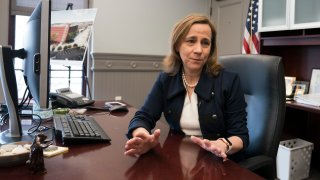 Joyce Craig, the mayor of New Hampshire's largest city, announced Monday that she is exploring a run for governor in 2024.
"I first ran for Mayor of Manchester to get our city back on track," Craig, a Democrat, said in a statement. "We made a commitment to tackle serious challenges by bringing people together, and to always put our families and residents first. In Manchester, we've added thousands of new jobs, hundreds of affordable housing units, decreased school class sizes, and reduced violent crime by 38 percent – and we're developing innovative solutions to address challenges and build opportunity."
"As I've had discussions with local leaders across New Hampshire, it is increasingly clear that the same challenges we're working to tackle in Manchester are seen in communities across the state," she added. "As a Mayor, I've collaborated with mayors and town and city officials to address these challenges – and we've made real progress. But there is a lack of support for cities and towns at the state level and I know we can do better."
Current Republican Gov. Chris Sununu hasn't said if he will run for re-election next year. He is currently weighing a run for the GOP presidential nomination in 2024.
Among the dozens of people serving on Craig's exploratory committee for governor are former Gov. John Lynch, Stonyfield Organic co-founder Gary Hirshberg and numerous former and current elected officials.
"Joyce's leadership in Manchester and across the state make her the most well-prepared candidate to serve as our next Governor, and her record as a winner in tough elections proves she can put together a winning campaign," Lynch said in a statement.
Craig was elected the first woman mayor of Manchester in 2017 and is currently in her third term. Prior to that, she served as an alderman and on the city's school committee for many years. She is a native of Manchester and a graduate of the University of New Hampshire.
She announced earlier this year that she would not seek re-election to her current post.
State Republican Party Chairman Chris Ager said voters are not keen on spreading what he called "Craig's chaos" to the rest of the state. He accused her of blaming Sununu and Republican lawmakers for her own failures.
"Joyce Craig has unequivocally failed Manchester during her time as Mayor and it is laughable that she wants to bring her disastrous policies to the corner office," he said in a statement.
The Associated Press contributed to this report.