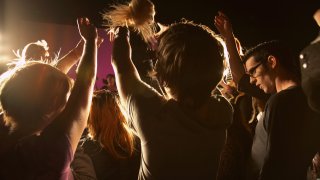 [This story first appeared on Boston Restaurant Talk.]
After being in the works for ten years, a legendary Cambridge nightclub is finally getting ready to be reborn.
According to an article from Vanyaland, ManRay is slated to open in Central Square on January 18, and as mentioned here in an earlier article, it will be moving into the old ImprovBoston comedy club space on Prospect Street. The original ManRay, which previously resided on nearby Brookline Street, first opened in 1985, being an "underground" place that featured themed nights along with goth and new wave bands and more; it closed in 2005, though in 2013 there was talk about it returning to the neighborhood, and in 2021, it was learned that the place would indeed be coming back in a new space.
Vanyaland says that the new incarnation of ManRay will continue on as an alternative underground spot with DJs, occasional live music, and weekly themed nights including goth parties on Wednesdays, gay nights on Thursdays, fetish-themed industrial nights on Fridays, and electro and new wave parties on Saturdays.
The new address for ManRay is 40 Prospect Street, Cambridge, MA, 02139. Its website can be found at https://www.manraynightclub.com/
[Earlier Article]
ManRay Plans to Open in Former ImprovBoston Space in Cambridge's Central Square
Copyright Boston - Boston's Hidden Restaurants