Sen. Ed Markey and his challenger, U.S. Rep. Joe Kennedy III, faced off for an hour Sunday night, each aiming to take a step ahead with just five weeks before the Sept. 1 primary.
In a race that features few policy differences, the debate was very much about scoring points with voters. The two sparred over criminal justice and immigration, with each repeatedly knocking the other for past votes, including on immigration detention bed policy and mass incarceration.
From quick questions on coronavirus to complex inquires on immigration, the debate, held inside our NBC Universal Boston Media Center, was heated, and, at times, personal.
NBC10 Boston political reporter Alison King says she thinks this primary is going to be much closer than some people might think, saying Sunday night's debate was a clear sign of just how contentious the race has become.
With just over a month until the primary, King says the race will likely be decided, not on the issues, but on personalities and loyalties.
Both Markey and Kennedy touted various endorsements throughout the night, with Markey citing the Massachusetts Teachers Association, janitors, Rep. Alexandria Ocasio-Cortez, and a handful of Massachusetts mayors among others.
But even that became contentious in the first of three such televised debates scheduled for this summer.
"In the Congressman's own congressional district, 19 of the state representatives and state senators are endorsing me," Markey said of Kennedy.
Though Kennedy more than once mentioned his own endorsements, highlighting unions and Congressman John Lewis, he also reminded Markey that endorsements don't win elections.
"This is why we need change," Kennedy retorted. "It is a Washington thing to think endorsements of elected officials means credibility and means success."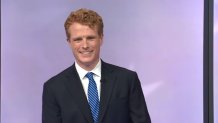 It was no surprise that both shared similar opinions when it came to discussing the coronavirus pandemic, including sending kids back to school in the fall and whether or not masks should be mandatory in Massachusetts.
When asked where each stands on a return to classroom learning, Kennedy said he still has "deep reservations" about sending his own kids back.
"As of now, I would not do it," Kennedy said.
Markey said kids should go back "only if it's safe."
"And that safety is going to be determined by science," he added.
Both candidates agreed face masks should be mandatory in Massachusetts, while Kennedy added that the face coverings should be mandatory nationwide, as well.
While the coronavirus crisis and economic downturn have been a central focus of the U.S. Senate race, social justice issues have also become a priority. Massachusetts voters have said the issue of Black Lives Matter will play a role when it comes time to vote for either Markey or Kennedy.
Each was asked Sunday what he is doing to show that Black Lives Matter.
"I'm partnering right now with Elizabeth Warren and Ayanna Pressley to repeal qualified immunity," Markey said, one of several times he mentioned Pressley by name.
"I was one of the first Democrats to declare the Black Lives Matter," Kennedy said. "This has been at the heart of my work since my very first moments in Congress."
Kennedy also cited numerous pieces of legislation he's worked on and his ties to DJ Henry's family.
Moderator and NBC10 anchor Latoyia Edwards asked each why his voice is the right one for this movement.
"We're at a moment when justice is needed, the soul of our country is on fire," Markey said. "We need justice. Justice for Black Americans. We need criminal justice overhaul."
Kennedy acknowledged that experience matters and conceded both he and Markey "are two privileged white men."
When asked if they support defunding police, there was no direct answer given from either man, but each talked about re-imagining our country.
"I believe it is absolutely imperative that we just re-imagine what we're doing in our country," Markey said. "We need more money for health care and education.
Kennedy added, "I think we have to completely re-imagine how we police in this country."
Markey said he's "very proud" of his record on issues of race and criminal justice, while Kennedy contended he stands by his record when it comes to holding police accountable.
The exchanges were heated at times and focused heavily on the other's past votes and current positions. Markey questioned whether Kennedy has changed his stance on several important issues because of political conviction or political convenience.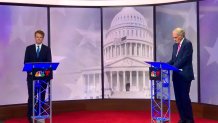 Markey more than once said, "Give me a break, Congressman," in response to Kennedy, while Kennedy at least twice said, "And this is why we need change," referencing comments from Markey.
With two progressive candidates sharing similar positions on most major issues, voters may look to other aspects of this race to make a decision.
King asked Kennedy why it took nearly two decades for him to disaffiliate from the Kappa Alpha fraternity he belonged to at Stanford - a fraternity known for decades of racist behavior.
"Candidly, I wish I had," Kennedy said. "But the reality is that, the chapter at Stanford had almost no relationship with the national organization."
When Markey was asked by King about accusations that he spends more time at his home in Chevy Chase, Maryland, than at his home in Malden, he said he will be providing documentation to prove his residence is in the Commonwealth.
For months, Markey has promised to provide information that would clear up the controversy, but nothing has yet been released.
"We're going to provide all of that information," Markey said. "No, that information is going to be provided...My campaign is providing that information."
But Kennedy continued to push the matter, saying, "The issue is whether he's giving adequate representation and voice to people across our Commonwealth."
But Markey appeared to take issue with Kennedy's comments, saying, "I don't just fight for Massachusetts, I deliver for Massachusetts."
In an election cycle - during a pandemic - that is anything but typical, these more personal nuggets could prove pivotal.
But as the race tightens and voters start paying attention, both candidates feel they are well positioned to win.
"You can feel the momentum," Markey said. "You can just feel the energy we have all across the state and we just have to continue to build on it."
For Kennedy's part, he believes "there are some big hard things we need to overcome."
"And I don't think we're going to do that with the same folks and the same mindset and the same ways that we've had there for 50 years," he said.
Much of this race could hinge on voter turnout, which is always unpredictable but even more so during a pandemic - never mind before Labor Day.
Some feel a large voter turnout could help Kennedy, but Markey is sure to benefit from the majority of activists and establishment voters that are on his side.
Polls have tightened in recent weeks. Kennedy held an early 14-point lead in September 2019, when he first announced his intent to run. That figure has more recently slimmed to a six-point advantage.
The highly-anticipated primary debate between the two U.S. Senate candidates aired Sunday night on NBC10 Boston and NECN. Telemundo Boston will rebroadcast the debate soon after at 11 p.m.
Strict guidelines were enforced to ensure Sunday's debate remained safe during the COVID-19 pandemic and adhered to public health guidelines.
"Candidates will enter the building at staggered times with a limited number of staff allowed inside. The debate is closed to the public and will not have a live audience," said Chris Wayland, president and general manager of the NBCUniversal Boston Owned Properties and Regional Sports Networks. "Masks will be worn during the broadcast and social distancing guidelines will be maintained at all times for the well-being of the candidates and our employees."
More on Sunday's #MASenDebate