A Boston firefighter was reportedly stabbed to death by his wife in their Marshfield, Massachusetts, home on Thursday.
Detectives with the Massachusetts State Police arrested 46-year-old Christine Ricci on Thursday and charged her with one count of murder.
Ricci was bent over and trembling as she entered Plymouth District Court on Friday and had trouble standing as the charge was read. Moments after her arraignment began, she fell to the ground after suffering a medical emergency and the courtroom had to be cleared.
A short time later, she was taken to the hospital by ambulance, her head covered by a large blanket.
The proceedings resumed about an hour later without the defendant, who will be held without bail over the weekend while she is at the hospital and arraigned on Monday.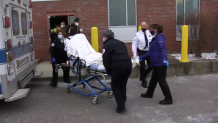 Prosecutors said police found 51-year-old Michael Ricci, a Boston firefighter, suffering from stab wounds in his home on Moraine Street in Marshfield shortly before 5 p.m. Thursday while responding to a 911 call. He was taken to South Shore Hospital, where he was pronounced dead.
"This is an awful tragedy," the Boston Fire Department said in a statement. "Michael was a valued member of the Boston Fire Department for 23 years. He will be greatly missed. Our thoughts and prayers go out to him and his family."
It was not immediately clear if Christine Ricci had an attorney.
Details surrounding what led up to the stabbing are still unclear given the developments in court on Friday afternoon.
Marshfield police, Massachusetts State Police detectives and the Plymouth County District Attorney's Office are continuing to investigate.
The Associated Press contributed to this report.