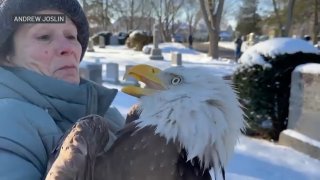 A critically ill bald eagle has died, days after it was captured by wildlife experts in Massachusetts in an attempt to save it from a likely case of poisoning.
The eagle was caught Monday morning in a cemetery in Arlington, after showing signs of poor health since Friday. It could no longer fly when experts from the Cape Wildlife Center were called in to snag it.
Referred to as M.K., the eagle began to bleed internally Tuesday night, the center said Wednesday, calling it a "catastrophic" spontaneous hemorrhaging. Veterinarians quickly tried to clear the bird's airway but she quickly died.
"It was always hard to watch a patient in this condition, but MK was particularly devastating. We know how well loved she is here in the Baystate and how many people her presence inspired to connect with our natural environments and the wildlife in them," the center's post said.
M.K. is about 8 years old; experts had said they believe she likely ate a rat that had ingested rat poison — something that's becoming a big problem for birds who prey on rodents — and that there was a good chance she could be rehabilitated if she survived a couple of days.
The Cape Wildlife Center said Wednesday it was still waiting for diagnostics on the eagle.
The center urged supporters to advocate for second-generation anticoagulant rodenticides to be banned — the form of pest control is currently only approved for commercial and structural uses.
"It is time to restrict the use of these poisons. Rodent control does not need to come at the expense of our natural heritage and ecosystem," the center said.