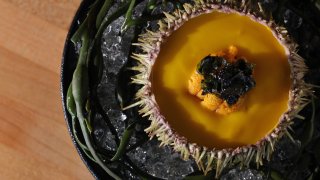 The world of fine dining is shining a spotlight on two New England cities that usually sit in shadows of their bigger neighbors.
The finalists for the James Beard awards were announced Wednesday and a chef from Lynn, Massachusetts, and a restaurant in West Hartford, Connecticut, are on the short lists for best in the country.
Rachel Miller, of Lynn French-Vietnamese seafood restaurant Nightshade Noodle Bar, was nominated for the Outstanding Chef Award, while West Hartford Peruvian place Coracora was nominated for the Outstanding Restaurant Award. The Quarry, a fine dining restaurant in Monson, north of Bangor in Maine's highlands, was nominated for Outstanding Hospitality.
Five New England chefs will duke it out to be named best in the Northeast:
Valentine Howell of Krasi, Boston  
Christian Hunter of Community Table, New Preston, Connecticut
Sherry Pocknett of Sly Fox Den Too, Charlestown, Rhode Island
Yisha Siu of Yunnan Kitchen, Boston  
Renee Touponce of The Port of Call, Mystic, Connecticut
The winners will be announced at the awards ceremony in Chicago on June 5.