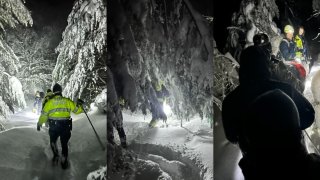 Following an hours-long search, a six-person team led by state police troopers was able to rescue two hikers who became stranded in the woods in southwestern Massachusetts during Tuesday's winter storm.
It all started just before 8 p.m. Tuesday when the Berkshire County Sheriff's Dispatch Center received a 911 call from one of the hikers and forwarded it to state police. The two hikers, men aged 47 and 53, had gone for a hike on the Alander Trail in Mount Washington State Forest in the southern Berkshires near the New York and Connecticut lines when they got lost and could no longer see the trail markings because of the bad weather and increasing darkness in order to make their way to the cabin at the mountain peak where they were supposed to be staying, state police said. They were also unable to retrace their steps back because heavy falling snow had filled in their tracks. They estimated they were two miles into the forest.
Authorities told the hikers to stay where they were as they assembled a search and rescue team equipped with snowmobiles, state police said. Troopers, area firefighters, Environmental Police and Department of Conservation and Recreation rangers set up a command post at the Egremont Fire Department on Route 23.
In order to get the snowmobiles to the search team, first responders had to clear roads between the command post and the entrance to the forest trail, which were blocked by trees and power lines knocked down by the storm. National Grid shut down power to the area shortly after 11 p.m., and public works crews, snowplows and utility crews were able to clear the road to the trail entrance.
A short time later, the six-person search and rescue team -- consisting of two state police troopers, three Sheffield firefighters and a DCR ranger -- left the command post for the trail entrance on snowmobiles. Because of the two-foot-deep snow, however, they were unable to drive onto the trail. Shortly after midnight, the rescue team left their snowmobiles behind and began the two-mile walk into the forest to the hikers' location.
After hiking for over two hours, the search team located the hikers around 2:30 a.m. The two men were suffering from fatigue and cold temperatures, but were otherwise OK.
The group then began the hike out of the forest, exiting the trail around 4:48 a.m. Southern Berkshire EMTs responded to examine the hikers and then took them to an area hospital for evaluation. The hikers' names were note released.
All units were able to clear the command post by 6:20 a.m., state police said.