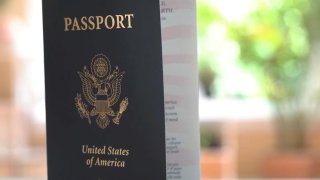 A Massachusetts man charged with killing two people in the island nation of Cape Verde has been arrested in the U.S. for allegedly lying to get a replacement passport for the one that prosecutors had taken away, federal authorities said.
Johnny Barros Brandao, a 40-year-old from Brockton, said on an application form at the U.S. Embassy in Dakar, Senegal, that he'd lost his passport while out to dinner on Christmas 2022, according to the U.S. Attorney's Office for the District of Massachusetts. They said Wednesday that the story was a lie — Brandao had his U.S. and Cape Verdean passports taken when he was released from custody, ahead of his trial, Dec. 12 on murder charges in the African country.
In Cape Verde, Brandao is charged with shooting a person in the head in March 2014, taking thousands of dollars worth of local currency and dumping the body by the side of the road, according to U.S. prosecutors. In July 2021, Brandao allegedly fatally shot someone else, and threw their body off a cliff.
He flew to the U.S. on Dec. 30 with the replacement passport and travel records where his name was misspelled, officials said. Ten days later, Cape Verdean prosecutors told U.S. officials in the country that Brandao had missed check-in appointments.
Brandao was arraigned on a charge of passport fraud in Boston on Tuesday and was held ahead of a hearing Friday, prosecutors said.
The charge carried a sentence of up to 10 years in prison. It wasn't immediately clear if Brandao had an attorney who could speak to his arrest.