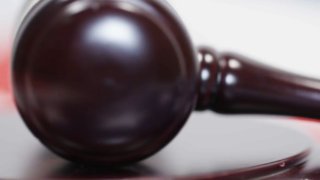 A Winthrop, Massachusetts man was arraigned Tuesday on accusations he was pointing a replica assault weapon at people during preparations for the Fourth of July in town on Saturday.
Gregory Gill, 23, faces two counts of assault with a dangerous weapon. He was arrested Saturday by Winthrop police and arraigned Tuesday at the East Boston Division of Boston Municipal Court.
People driving by reported seeing a man standing on a military vehicle pointing an assault weapon at them.
Shop owner Richard Duval said he and his grandson were working on two World War II-era military vehicles for Winthrop's July Fourth celebrations when they called someone to help tow a Jeep.
"All of a sudden the kid that towed us back there he's on top of the half rack," Duval said.
While police described the fake weapon as a replica AK-47, Duval said what the man picked up was a replica Tommy gun, which was on the truck.
"And you hear him over the top rat a tat tatting, pretending he's shooting people going down the street so we told him hey come on knock it off," Duval said.
Police responded and arrested Gill after two people reported having a gun pointed at them.
"What the actual victim perceived at the time that something is pointing at them and they perceived that to be a real firearm and in today's environment everyone is one high level of awareness not to be doing this," Winthrop Police Chief Terence Delehanty said.
Suffolk County District Attorney Kevin Hayden referenced the deadly shooting at a Fourth of July Parade in Highland Park, Illinois, which happened after Saturday's incident, as an example of why people are alert.
"At this national moment in America, one can only begin to fathom the terror of seeing an apparent assault weapon pointed at you. This incident reminds us that a dangerous weapon in the wrong hands can change lives and communities in an instant," Hayden said.
Local
In-depth news coverage of the Greater Boston Area.
Gill posted $500 bail. He is not allowed to possess firearms and will have to undergo GPS monitoring with home confinement. The court also ordered him to stay away from the victims.
The case was continued until August 16, when they will have a pre-trial hearing.
Holiday celebrations took place across Massachusetts this weekend. Winthrop had its Independence Day parade and fireworks display on Sunday.