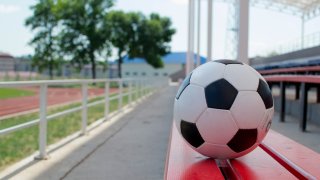 State and education officials gathered Thursday to address ways to prevent incidents of hate and bias in school sports in Massachusetts.
It comes as the number of hate attacks appears to be on the rise, according to the attorney general's office.
The conference was hosted by the Massachusetts Attorney General's Office in partnership with several other state agencies and other community organizations, including the Department of Elementary and Secondary Education and Northeastern University's Center for the Study of Sport in Society.
State and education officials gathered at TD Garden with representatives from Boston's professional teams to talk about how to tackle the problem, lead by Attorney general and Gov.-elect Maura Healey. Healey said this all started with a conversation in her office about a year ago about the rising number of hate attacks, especially in schools.
"How to recognize the signs of hazing, of bullying.  How to respond.  How to talk to young people about that because its about mitigation. It's about heading it off," Healey said at Thursday's event.
The conference was aimed at providing school administrators, athletic directors, coaches and referees with ways to stop hate in sports, and build positive and inclusive sports environments.
More Sports News
Andrew Scott knows what it's like to be singled out.  He's the boy's hockey coach at Beverly High School.
"I'm sometimes judged because of my disability and I know that for me personally I almost have a chip on my shoulder and I think that motivates me to make sure the kids are doing the right thing," Scott explained.
Experts from the Anti-Defamation League and the Northeastern University Center for Sports and Society provided their expertise to hundreds of coaches and athletic directors, including Michael Capotosto from Longmeadow.  At his school they bring the upperclassmen into the conversation with captain's council meetings.
"And hopefully it trickles down to bring those underclassmen under their wings.  Those freshmen that don't know their way yet and hopefully progress because we say tradition never graduates and that's where it starts," he said.
Revere Superintendent Dr. Dianne Kelly said they are working to make sports a positive, life-changing experience.
"While simultaneously working toward the elimination of situations in which students feel or are in fact hazed, bullied, disrespected," she said.
Thursday's event was just the first meeting - Healey said they have 13 training sessions planned across the state to bring the message to more schools.