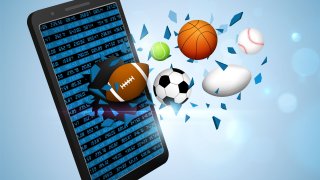 The topic of sports betting, which is about to explode across Massachusetts this week with the onset of mobile wagering, barely came up Wednesday during a presentation at the Public Health Council by the Office of Problem Gambling Services.
Massachusetts over the past decade has grown increasingly reliant on revenues from casino wagering and slot machines, which add to state Lottery windfalls and will now be joined by another new source of state cash: the take from pro and college sports betting.
Director of the Office of Problem Gambling Services Victor Ortiz gave a presentation to the Public Health Council at its meeting on Wednesday, highlighting campaigns and services that the office has undertaken to help residents with gambling addictions.
"Recently, we saw the act to regulate sports wagering in the commonwealth that now allows for sports wagering at the established resort casinos, along with an additional number of mobile platforms that are scheduled to launch this month, I believe in the next two days," Ortiz said. "So adding an additional layer of exposure to gambling activities as well."
That was the only mention Ortiz made about the sports betting during his presentation on reducing gambling-related harm.
In other states, mobile betting has accounted for between 85 and 95% of all wagering activity.
The once significant opposition within the state Legislature to expanded gaming has nearly disappeared but outside interests remain adamant that the industry is predatory in nature.
"Internet sports gambling has led to gambling operators unleashing a hurricane of gambling advertising upon the daily lives of state residents, especially young people," Les Bernal, national director of Stop Predatory Gambling, wrote to legislators last summer before they enacted the sports betting law. "Bombarding kids with gambling ads has normalized and desensitized them to the dangers of commercialized gambling, causing many to become addicted to gambling and countless others to become more likely to develop a gambling problem later in life because they have been led to believe commercialized gambling is a harmless activity."