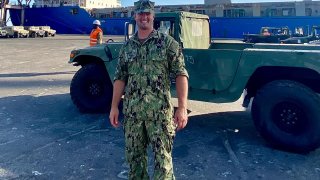 The Massachusetts House continues to function in large part through remote operations, and one of its members, Rep. Patrick Kearney, is really remote.
According to the Scituate Democrat's office, Kearney, a lieutenant in the U.S. Navy Reserve, is currently assisting with joint military exercises in North Africa. Specifically, he is serving as a tactical advisor aboard the heavy lift ship Ocean Gladiator as part of Operation African Lion.
Kearney's office described the nine-nation operation as "the largest multinational military exercise ever conducted on the African continent."
"It is always an honor to serve my country and answer the call," Kearney said in a July 2 statement. "This operation will continue to demonstrate America's military readiness and commitment to supporting our allies overseas."
More on the Massachusetts Legislature
Copyright State House News Service