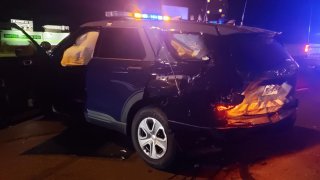 A Massachusetts State Police trooper was injured when his cruiser was hit by an alleged drunken driver in Worcester on Monday night.
State police said the trooper was in his marked cruiser on Interstate 290 eastbound at Burncoat Street around 10:35 p.m. when it was struck by an SUV. The cruiser had its emergency lights activated and was protecting a disabled motor vehicle in the right lane.
The male trooper, whose name has not been released, was taken to UMass Lakeside Hospital in Worcester. State police said the trooper suffered a concussion and other upper body injuries but was discharged from the hospital on Tuesday morning.
The driver of the SUV that struck the cruiser, Victoria Skelly, 28, of Worcester, was not injured and was arrested for operating under the influence of alcohol causing serious injury, negligent operation of a motor vehicle, speeding and violation of the move over law.
She was released on bail and is scheduled to be arraigned at a later date in Worcester District Court.
No further information was immediately available.