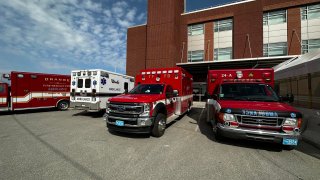 Children who were given pepper chewing gum during recess at an elementary school in Orange, Massachusetts, were taken to the hospital Tuesday, officials said.
One student at Dexter Park School had bought the gum online and offered it to other students during recess, according to a statement from the superintendent of schools in Orange and local police and fire rescue departments.
"The product contained levels of pepper, which, when some students ingested it, caused digestive issues, including burning in the mouth and esophagus. Additionally, students who accepted the product but did not ingest it suffered immediate skin reactions, including eye irritation, if they rubbed their eyes after touching it," Superintendent Elizabeth Teahan-Zielinski said in a Facebook post.
Six students were taken to the hospital by ambulance, while others were taken by their parents or caretakers, officials said. They didn't provide the total number of students affected.
Officials said they were investigating what happened and planned to take appropriate disciplinary action when the investigation ends.
"I ask that you speak with your child about bringing in candy or accepting such items in school, which are not permitted as part of our wellness policy. It is difficult for students to understand that items can often contain ingredients others are allergic to or created to cause physical distress," Teahan-Zielinski wrote.