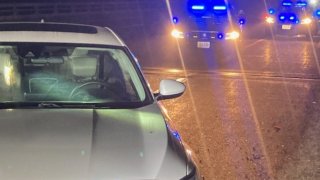 A Massachusetts woman is facing charges after allegedly leading police on a chase through multiple New Hampshire communities early Sunday morning.
New Hampshire State Police said one of their troopers stopped a Honda Accord for speeding and committting "multiple lane control violations" on Interstate 93 in Windham around 3:23 a.m. Sunday. But as the trooper approached the passenger side of the car, the female driver put the vehicle back into drive and fled the scene.
The trooper returned to his cruiser and began pursuing the Honda, believing the driver to be impaired. The driver continued fleeing despite multiple troopers following with lights and sirens activated.
The chase continued along I-93 north through Derry and Londonderry and into Manchester, where the driver ultimately lost control of her vehicle near Exit 8 and struck the guardrail along the right side of the highway. The driver again tried to drive off, but her car was disabled due to the damage it had sustained.
The driver, later identified as Genesis Quezada, 24, of Haverhill, Massachusetts, was taken into custody without further incident, according to state police. She was taken to Elliot Hospital in Manchester, where she was cleared by medical staff and found to have no serious injuries.
She is charged with aggravated driving while intoxicated, reckless conduct, disobeying an officer, operating after suspension, reckless operation and multiple other charges related to failing to maintain proper lane control and making unsafe lane changes, state police said.
Quezada was released on personal recognizance bail on those charges but held on $2,000 cash bail on two outstanding warrants out of Salem District Court.
She was taken to Rockingham County Jail and is scheduled to be arraigned on May 19 in Derry District Court.