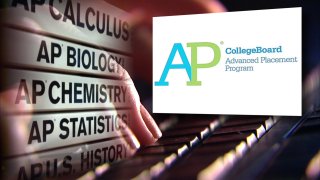 For the second year in a row, Massachusetts has ranked first in the country for the percentage of graduating high school seniors who scored above a "qualified" score on advanced placement exams.
In 2022, 30.5% of public high school graduates in the state scored a 3 (out of 5) or higher on an AP exam in high school. Nationally, 21.6% of public high school graduates scored a 3 or higher. Massachusetts has also ranked first on this metric in 2021, 2019 and 2017.
Secretary of Education Pat Tutwiler and Department of Elementary and Secondary Education Commissioner Jeffrey Riley also celebrated what they called "lifting up ... access for all students and particularly those historically marginalized" at an event recognizing the state's ranking this year at the State House on Wednesday.
Last year, 35.9% of all Hispanic graduates and 31.1% of Black students took an AP exam during high school -- compared to a 43.7% total across the state -- representing a 16.2% increase for Hispanic students from 19.7% in 2012 and a 10.2% increase for Black students from 20.9% in 2012.
Massachusetts has the eighth highest percentage of Hispanic students and third highest percentage of Black students who graduate having taken an AP exam.
"When I started over five years ago, Massachusetts was ranked number one across the country on The Nation's Report Card. But we tempered that phrase with the acknowledgement that we were really only number one for some," Riley said. "We know that we have the highest percentage of kids' scores. More important than that is we're having huge gains in our access for Black and Latino students."
Copyright State House News Service