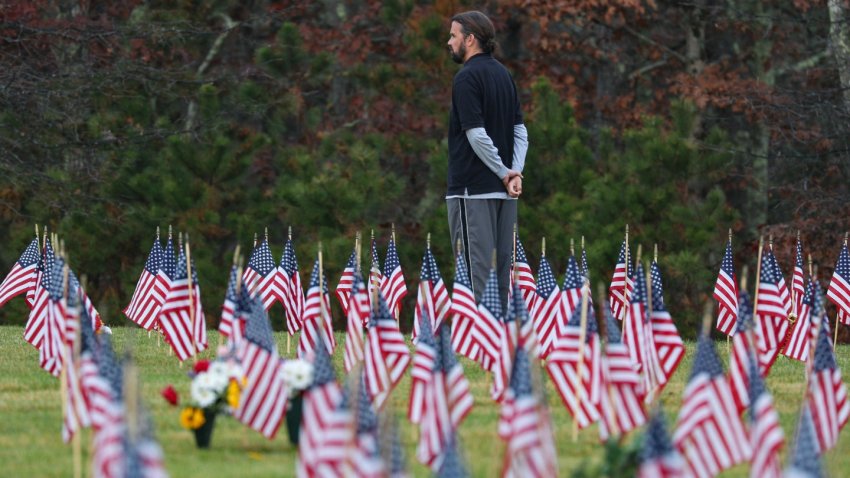 Massachusetts Gov. Baker and other officials paid tribute to those who have served the country in a virtual ceremony Wednesday, as the state observes Veterans Day amid the coronavirus pandemic.
"Freedom isn't free. And we would not be the country we are, we would not have the freedoms we have, if it weren't for those who chose to sign up and put themselves in harm's way," Baker said in his remarks. "On behalf of the rest of us, I think in some respects the most important thing I can say about Veterans Day is, it gives us all a chance to reflect for a minute on what our freedoms, our democracy, mean to us."
Baker touted the state's Department of Veterans' Services as a "robust support system," for veterans, with service agents in every community across the Commonwealth.
"Although this ceremony may look a little different today, we hope that the true appreciation and efficacy of the meaning of this day will still shine brightly on your TV screens, your computers or your tablets," Secretary for the Department of Veterans' Services Cheryl Lussier Poppe said.
Poppe, newly appointed as the Department head last month, is 30-year veteran of the Massachusetts National Guard. She retired with the rank of Colonel in 2008.
Baker and Poppe were joined by veterans, clergy, musical performers and others during the virtual ceremony Wednesday morning.
Local
In-depth news coverage of the Greater Boston Area.
Keynote speaker Major General Bill Chen, a third generation Chinese American, served as a career army officer for more than 32 years and retired as a U.S. Army major general in 1993.
"I know firsthand what families and military spouses go through. To all of you, my thanks and gratitude for your dedication support and sacrifices," Chen said. "You are the unsung heroes supporting our servicemembers."
Chen's family is has three generations of military service; his father was a World War II Army Air Corps pilot in the China Burma India theater, he and his two brothers served in the Cold War and the Vietnam War and his niece is a helicopter pilot in the Army in Iraq and Afghanistan war.
"Today we pause to say thank you to those in our Commonwealth who have and continue to serve our nation with valor and distinction," Baker said. "Let us not forget that because of the brave men and women who wore the uniform, we can live the lives we do in a safe and free country."
The soldiers' homes in Holyoke and Chelsea aired the ceremony for veterans in addition to a virtual message from Rear Admiral Michael Wettlaufer, Commander of the Military Sealift Command.
Brookline was set to hold its annual Veterans Day program featuring speeches from local veterans at the town hall at 11 a.m. Attendees are required to wear a cloth face covering and practice social distancing.
In Foxboro, a "Remembering Our Fallen Memorial" was open for public viewing at Patriot Place from 1:00 a.m. to 9 p.m. until Sunday. Visitors are asked to wear face masks and follow social distancing guidelines.
Due to the pandemic, many communities are opting for virtual events and prerecorded observances to mark the occasion.
Sommerville, for example, shared a Veterans Day observance with messages from Mayor Joe Curtatone and others.