The Commonwealth welcomed a new governor on Thursday as Gov. Maura Healey was inaugurated in a historic event.
Healey's rise to power marks the first time a woman has been elected governor in Massachusetts, and she is among the first two openly gay women to serve as governor in the country. She acknowledged the significance in her inaugural address.
"I assume this office with humility, mindful of the weight of history and lightened by the gift of gratitude. It is the honor of my life to lead this state," Healey said.
Her 34-minute speech touched on what Massachusetts so great as well as the barriers facing many of its residents. She pledged immediate action to increase affordable housing, make the beleaguered MBTA safer, build out the state's green infrastructure and audit equity in each department in the executive branch.
The House chamber at the State House was brimming before noon, and Healey, along with Lt. Gov.-elect Kim Driscoll, entered to applause.
Gold Star families led the Pledge of Allegiance during the inaugural ceremony. Berklee College of Music instructor Lydia Harrell sang the National Anthem.
Immediately following the oath of office, both Healey and Driscoll gave their inaugural addresses — Healey's only after an extended ovation. Both devoted a significant portion of their speeches to the housing crisis in Massachusetts
"We have to make Massachusetts a place that people can afford to call home. Our people can't realize their dreams until we end the nightmare of high costs," Healey said.
Both also acknowledged the systemic barriers facing people in the Bay State — "we know we're still leaving too many people behind," Driscoll said — and said they would work to ensure all its residents share in the state's prosperity.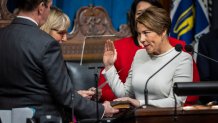 See more of Healey's pledges as governor here, including commitments to appoint a secretary of housing and MBTA safety chief.
Among the guests assembled for the inauguration were Sen. Ed Markey; former Secretary of State John Kerry, himself a former lieutenant governor; several former Massachusetts governors, including Deval Patrick, Bill Weld and Michael Dukakis; and Boston Mayor Michelle Wu.
"I think she'll be terrific. I think it's exciting for, not just Massachusetts but for the entire country, to be embracing the future," Kerry said ahead of the ceremony.
He drew a contrast between the orderly transition of power going on in Massachusetts and the "craziness" going on in Washington, D.C., where the House of Representatives remained in limbo as the Republican majority had yet to choose a speaker.
"We have a legislature here that wants to work for the people, and I think that makes a world of difference," Kerry said.
Healey referred to Washington as well, calling the age "a time in our nation of poisoned discourse," and vowed that Massachusetts will remain inclusive and protective of women's reproductive rights.
"In Massachusetts, we come together, we lift people up and we lead. No matter the challenges we face ahead, we will stay true to the best of ourselves, we will act with empathy and equity and we will work together," Healey said. "As your governor, I promise you, these principles will be my north star."
On Thursday night, there will be the "Moving the Ball Forward" Inaugural Celebration at TD Garden. Doors open at 5 p.m., and the celebration gets underway at 6 p.m.
Grammy award-winning singer Brandi Carlile will be the headline performer of the event, the Healey-Driscoll Inaugural Committee announced Tuesday morning. Other performers slated to appear include by Todd Angilly, Boston Arts Academy students, the Boston Gay Men's Chorus, DJ Frenchy, Abilities Dance Company, Witch Pitch, OOMPA and SciTech.
On Wednesday, outgoing Governor Charlie Baker and outgoing Lt. Governor Karyn Polito gave Healey and Driscoll gifts symbolizing the ceremonial transfer of power, before taking their lone walk out of the State House.
Over the past few days, Baker has reflected on his time in office — touting his success at taking the state budget from a billion-dollar deficit to a multi-billion dollar surplus, delivering on infrastructure projects and housing reform, while also lamenting how the COVID-19 pandemic upended his second term agenda.
Since her November election, Healey has been steadily announcing additions to her cabinet. Earlier this week, Healey and Driscoll announced Yvonne Hao as Secretary of Economic Development, and Jason Snyder as Technology Services and Security Secretary.