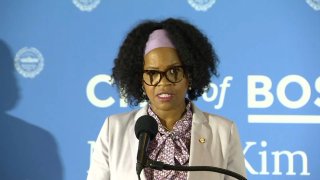 Mayor Kim Janey said Thursday that the citywide COVID-19 positivity rate is dropping in Boston and almost 65% of residents are now fully vaccinated.
She said the citywide positivity rate is now 3%, down 1.1% over the last week. Hospitalizations rose slightly week over week from 116 to 125, mostly among unvaccinated residents.
Since the start of the pandemic, there have now been 80,367 coronavirus cases reported in Boston and 1,424 deaths.
As of Tuesday, Janey said 72% of Boston residents have had one shot and nearly 65% are fully vaccinated.
Janey also gave an update on the city's vaccination or testing mandate, saying 13,332 city employees included in the first phase of the program have verified their vaccination status or provided negative test results.
The first phase focused on public-facing workers who deal with high priority residents like children or the elderly. Two additional phases will continue through Oct. 18.
"Our goal is to vaccinate as many City of Boston workers as possible because we know the vaccine is the best tool to protect ourselves and those we love," Janey said.
The mayor said the city is also preparing to administer booster shots and vaccines to young children once they have been approved for use.
"We are carefully monitoring the development of vaccines for ages 5 to 11, and while shots may not be available until November, we have begun COVID vaccine access planning for Boston's youngest residents," she said.
Statewide, health officials reported another 1,448 COVID cases and 23 new deaths on Wednesday. That pushed the number of confirmed cases to 756,363 and total deaths to 18,213 since the start of the pandemic.
Massachusetts' seven-day average of positive tests held at 1.97% Wednesday. It was once above 30%, but had dropped under 0.5% until the delta variant began surging in the state.
The number of patients in Massachusetts hospitals with confirmed COVID-19 cases ticked dipped to 632; the figure was once nearly 4,000, but averaged under 85 at one point in July. Of those currently hospitalized, 199 are fully vaccinated, 165 are in intensive care units and 102 are intubated.
Over 9.4 million vaccine doses have now been administered in Massachusetts. That includes more than 4.8 million first shots and over 4.3 million second shots of the Moderna and Pfizer vaccines. There have been more than 311,000 doses of the one-shot Johnson & Johnson vaccine administered.
Health officials on Wednesday reported that a total of 4,622,257 Massachusetts residents have been fully vaccinated.