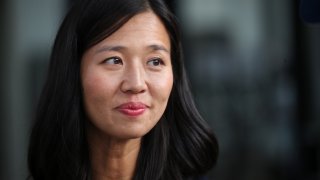 Boston Mayor Michelle Wu addressed the Greater Boston Chamber of Commerce on Thursday morning, sharing her priorities for the Boston economy with the local business economy.
It was her first formal address to the chamber since being elected mayor.
Since taking office, the chamber said Wu has already launched initiatives to revitalize the downtown area impacted by the COVID-19 pandemic, ensure that local diverse companies are able to compete for and be awarded city contracts, celebrate legacy businesses and attract and retain diverse talent.
Wu touched on the many things she's had to deal with in the first year of her administration in her speech, noting the omicron surge, hiring new school and police superintendents, following the Celtics' run to the NBA Finals, along with record snowfalls and the unprecedented Orange Line shutdown.
"I have more faith than ever in what's possible for our city, because I've seen how much we can accomplish when we focus on getting the little details right, empower an incredible team and really put our energy into delivering lasting impact."
The mayor said Boston's vibrant business community has been a huge part of the city's successes.
"Boston's business community has always been tough -- willing to take on the odds and believing in the possibility and promise of our communities," she said.
Following a month of major MBTA closures, and the threat of future shutdowns that transit officials say are inconvenient but necessary, Wu said she plans to have the City of Boston get more involved in obtaining funding for the state-run transit authority.
"It's a little bit unusual that cities get involved, but this will be transformational. These infrastructure changes are needed immediately," she said.
Wu said the city will throw its weight in with the state to apply for federal grants to fund the Allston Interchange Project. She added that public transit improvement and better walkability will help take cars off the road to decrease the traffic congestion that chokes Boston roads.
On another hot-button issue, Wu promised that in the coming days she will sign an executive order to accelerate the production of affordable housing.
"After reviewing the current process carefully, we have found that it takes an average of 11 months to get approvals for our affordable housing developments," she said. "Our executive order will work to cut time in half and streamline the timeline on these projects."
She also said the city will "put our money where our mouth is," to fund a full audit of the parcels of land that are publicly owned in Boston, to look at "where can we unlock potential with full control over the approvals process of our own property."
Wu also touched on the impact of Hurricane Ian at the beginning of her speech.
"I do just want to note how much I am despairing and watching with tremendous emotion what's happening with Hurricane Ian in Florida and to see that the risks that we face are playing out every single year, every single month for communities," she said. "So just thoughts and hopes for a recovery, and we will be doing everything we can here in Boston to support what our neighbors' needs are as they're facing this tremendous time of crisis."
State House News Service's Sam Drysdale contributed to this report.