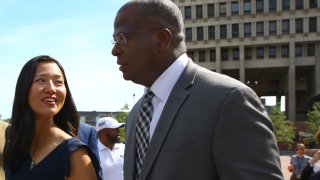 Boston Mayor Michelle Wu and Police Commissioner Michael Cox held a media availability at the city's police headquarters on Monday afternoon.
Cox said it was a chance to be more transparent with the media, one of his goals when he entered the force.
Both officials took questions on a range of topics, including how the department handles missing persons cases, conversations with bar and nightclub owners on drink spiking and the state of policing.
Cox was hired as Boston's police commissioner last summer, and promised to work to diversify the department, which critics have long complained doesn't look enough like the city it serves.
When she was a candidate for mayor, Wu outlined a proposal for police reform that suggested civilianizing traffic enforcement, replacing officers during routine stops with unarmed, trained civilian personnel.