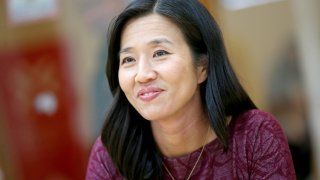 Boston Mayor Michelle Wu is once again calling for help from the state to handle persistent homelessness and substance use problems at the city's "Mass and Cass" intersection.
Wu and former Massachusetts Gov. Charlie Baker clashed on the issue of state support for the troubled area in the fall, and her latest call for help comes with Gov. Maura Healey now running the executive branch.
"I'm going to continue renewing our call. We need the state to help on this. People are coming in from all across the state and even beyond. And the right thing to do, the effective thing to do, we see it works, is to have this system that we've set up in Boston set up in other parts of the state as well," Wu said Monday.
For years, homeless and housing insecure people have flocked to the area at the intersection of Mass. Ave. and Melnea Cass Boulevard, where the South End and Roxbury neighborhoods meet, and tent cities have come and gone in waves. The spot is also a hub for drug dealing, and many of the individuals who live on the streets at Mass and Cass are dealing with opioid-use disorder.
Wu said in the fall that the state needed to "step up." Baker at the time said the state had played a key role in the development of low-threshold housing and put $40 million toward addressing homelessness and addiction issues. The fiscal year 2023 state budget earmarks $597 million for opioid recovery programs and harm reduction across several state agencies.
Baker also said that the city needed more law enforcement in the area.
"I think the big challenge at this point is it's not just a housing, it's not just an addiction challenge," he said in October. "At some point, the city's got to deal with those drug dealers who just hang around down there and just prey on people."
Asked about the Wu and Baker back-and-forth on the issue in December, Healey said, "the state has done an awful lot."
"Think about the money that has come in over the years, some of it by way of settlements from the attorney general's office, a lot of it through the legislature as well, and a lot has been provided by cities like Boston, and so right now it's about let's take stock of where things are at right now, have those conversations and figure out what we need to do going forward," Healey said at the time.
In October 2021 in her capacity as attorney general, Healey supported, among other options, a proposal from Suffolk County Sheriff Steve Tompkins that would allow people at Mass and Cass to be involuntarily housed in an unused detention facility temporarily.
Though housing was at the forefront of her campaign and Healey plans to set up a new Cabinet-level housing secretariat, the governor has not yet said much publicly about the situation at Mass and Cass.
Dozens of bills concerning homelessness have been filed this session. They include legislation filed by Reps. David Rogers and Michael Day and Sen. DiDomenico to create a statewide access to counsel program for eviction cases (H 3657 / S 1082), a bill by Reps. Smitty Pignatelli and Frank Moran and Sen. Rausch establishing a bill of rights for people experiencing homelessness (HD 107 / SD 1332), and a Sen. Jamie Eldridge bill to eliminate the limits on how much personal property a person can bring into a homeless shelter (SD 132).
During an appearance Monday on Spark FM, Wu talked Monday about how property limits at homeless shelters disincentivized people from using temporary housing.
"The reason why we had a little bit of an encampment, tent city situation form directly across the street from where a shelter had empty beds, is because the shelter system wasn't working for people," Wu said. "They didn't have medical treatment for those who are living with substance use or didn't feel safe inside. You didn't have a place to store your belongings and property. So we've been working to transform a lot of our shelters."
City officials cleared the encampments at the site last winter, but many have trickled back over the summer and into fall of 2022.
Though she is still calling for state help, the Boston mayor said conditions have improved over the last year. The number of people living on the street is going "down and down," she said.
"After several hundred housing units were created with support services, more than 400 people now have been connected to housing in some way and multiple, I think the number is almost closer to 90 people, in just a year have moved all the way through transitional housing to having a permanent home and a job," Wu said. "These are incredible stories of inspiration and people just doing everything they can when systems have failed them."