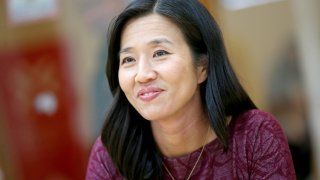 Mayor Michelle Wu held a press conference Thursday to announce details about Pride Month events being held across Boston next month.
"Today is a good day," she said, "because we have a number of exciting announcements about Pride here in Boston."
It all kicks off on June 1.
"As a city, we're looking forward to celebrating at City Hall Plaza on June 1st," Wu said. "After three long years, once again we'll be able to have an in-person flag raising to kick off Pride Month in Boston."
They will also be unveiling the Portraits of Pride art exhibition that day, which will live at City Hall Plaza for the entire month.
And on June 10, the Pride Parade will return for the first time since 2019, which is expected to draw 1 million people or more. It will kick off at 11 a.m. at Copley Square.
"Bringing our Pride parade and Festival back is going to be better than ever," said Adrianna Boulin, president of Boston Pride for the People. "People are going to feel included, they're going to be able to access our events and we're going to be able to connect and respect each other."
Boulin said the Pride Festival, an all ages event, will start at 12 p.m. on the Boston Common with a main stage, and a 21-plus event with a second stage, beer garden and vendors will be held at City Hall.
Mariangely Solis Cervera, the city's chief of equity and inclusion, announced that the inaugural Amplify GSA Summit will be held this Sunday at Boston Arts Academy. Amplify GSA is an effort to support Boston Public Schools in creating safe, inclusive spaces for LGBTQ+ youth.
Wu said the city is also hoping that people will register at boston.gov/blockparty to host Pride related events in their neighborhoods.
There is still time to register for the parade and the festival, organizers said. Information on how to register can be found at bostonprideforthepeople.org.
"We just can't wait to celebrate with all of you, so come out," Boulin said.
More on Pride Month in Boston