Mayor Michelle Wu said the Boston City Council "delivered a strong message" by approving her rent control proposal on Wednesday.
"Today, the city council delivered a strong message that the City of Boston needs the tools to address our housing crisis," she said at an afternoon press conference. "We hear from residents across every single neighborhood just how dire it is, and we see families who are getting pushed out of the communities that they grew up in and helped to build."
"This is affecting everything from how our businesses and economy can recover to school enrollment and the stability of every part of our neighborhoods," Wu added. "I am so thankful to the city councilors for their partnership, for their leadership on this. We're sending a big message. I look forward to continue doing everything we can so Bostonians can continue to live in this incredible city and stay here in our neighborhoods."
Wu's rent control proposal was approved by an 11-2 vote Wednesday. Councilors Frank Baker and Erin Murphy voted against the home rule petition.
"This is a monumental act for the city of Boston," Councilor Ricardo Arroyo said. "I commend the mayor for moving forward with the rent stabilization plan to address what has been and is an ongoing, long-standing issue of price gouging and rent gouging and displacement of residents of the city of Boston."
Baker argued that the policy would villainize property owners who he said have "created generational wealth for the middle class in Boston," calling rent control -- which landlord and real estate groups vocally oppose -- "a bad policy."
Wu's rent stabilization and "just cause" tenant eviction proposal before the council would limit annual rent hikes within city limits to 6% plus the change in the Consumer Price Index, with a cap of 10% in high-inflation years. It would also exempt live-in small landlords in two- to six-unit buildings, as well as new construction for 15 years, in a bid to avoid disincentivizing new development.
Rent control was made illegal on a state level in 1994 when voters narrowly decided at the ballot box to prohibit limiting how much rent can grow for tenants year after year.
In 2023, Boston is expected to be one of the most expensive cities in the country in which to rent an apartment, according to online realtor Zumper, and the median price for a one-bedroom apartment as of February was $3,040.
Now that the city council has passed the measure, and once Wu signs it, the Legislature will have to approve the policy and send it along to Gov. Maura Healey.
Though Healey, unlike her predecessor, has not spoken out against rent control, she also has not made explicit if she will sign a measure allowing Boston to revive its own local policy despite the statewide ban, saying she generally supports local efforts to make their own decisions.
Legislative leaders have shown little interest in reviving rent control after the statewide ballot question banned the practice, and several councilors in Wednesday's hearing brought up the "Jim Brooks" bill, which the city passed to prevent "no-cause" housing evictions in 2017, but died at the State House.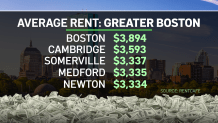 "The goal, as always, is to be in a conversation with city government, with residents, with state government. We all represent the same constituents, we all hear from the same families who are struggling to hang on," Wu said. "I think we all share an urgency in knowing that this can't stand for Boston. We cannot be a place where people get pushed out from communities they want to keep contributing to. We'll make that case to the State House."
Also on Wednesday, the city council voted to approve Wu's proposed changes to the Boston Planning and Development Agency. That proposal will also require legislative approval.
State House News Service contributed to this report.
More on Mayor Wu's rent control proposal