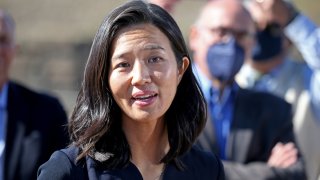 Boston Mayor Michelle Wu unveiled her proposed budget for 2024 to the City Council on Wednesday morning.
"We are here to present our administration's second budget, and I'll tell you, the second time around feels a lot more intentional and we're a lot more able to think about how all the pieces can fit together," the mayor said.
Her plan calls for a $4.28 billion operating budget for fiscal 2024 for city services including schools, libraries, public safety, housing support, parks, senior centers, street cleaning and more.
It also includes a proposed $4.2 billion capital plan for fiscal years 2024-28, including $58 million to improve public ways and public transit, $374 million for school construction and renovation, a new pool in Charlestown, new libraries in Codman Square, Fields Corner and Egelston Square and new community centers in Grove Hall, the North End, Allston, Mission Hill and Hyde Park.
Click here for more details on the budget plan.
"We are still, of course, as each one of you in this room feels every day, still feeling the now receding but longstanding impacts of the pandemic," Wu said. "And while we're no longer in as much of an immediate crisis and emergency mode, there are still many pieces for young people, families and infrastructure we're seeing continue to need attention."
And while she said city officials are looking to ensure that Boston is charting new ground, she described this year's budget as "an intentional investment in getting back to basics as well," focusing on areas that might not have received the attention they deserved because of the COVID-19 pandemic.
Some employees are now wearing two or even three hats instead of just one, Wu said, and many facility and infrastructure needs have been delayed for some time.
"We really tried to work with departments to get at those sometimes invisible but so fundamental core operations and needs," the mayor said. "Instead of just always announcing new things, the focus also has to be on doing what we already do well and making sure the work is sustainable for the workforce."
Another big piece, she said, "is really trying to knit together all of our investments and programming and work to ensure Boston is the best place in the country to raise a family and support residents in a multi-generational family. We want to be first for families anywhere across the country."
Wu also announced Wednesday that Boston has received a AAA bond rating from both rating agencies, Moody's and S&P Global, for the ninth year in a row. These ratings allow the city to secure better rates for infrastructure investments.