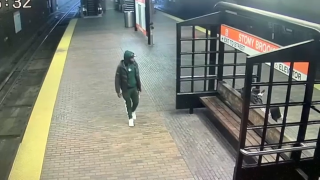 Two separate incidents took place on the Orange Line in Jamaica Plain Monday, resulting in a woman's arrest over an incident involving a hammer and a search for a man after a case of public lewdness, police said.
MBTA Transit Police said a female passenger was subjected to open and gross lewdness about 7:40 a.m. Monday at the Stony Brook Station. They shared video of another rider walking down the station's platform, calling him a person of interest.
Anyone with information about the man was asked to call police at 617-222-1050.
That night at about 9:30 p.m., a woman was arrested a stop away, at the Jackson Square Station, for trying to hit other riders with a hammer on an Orange Line train, police said. The 38-year-old was not identified.